Hunter's Moon Luna Market
30 Oct, 6pm - 9pm
Warm – Inspiring – Magical
The Luna Market will be popping up "live and in person" Friday, October 30th in the alley next to G&M Dry Goods. We'll be following all the social distancing guidelines (see below for more details) and are very excited to be able to host a face-to-face event.
We have some crazy wonderful women showing off their amazing skills selling great gifts, food and wines. Stop by, shop a little, socialize a little and grab a delicious dinner to go… Friday date night all in one!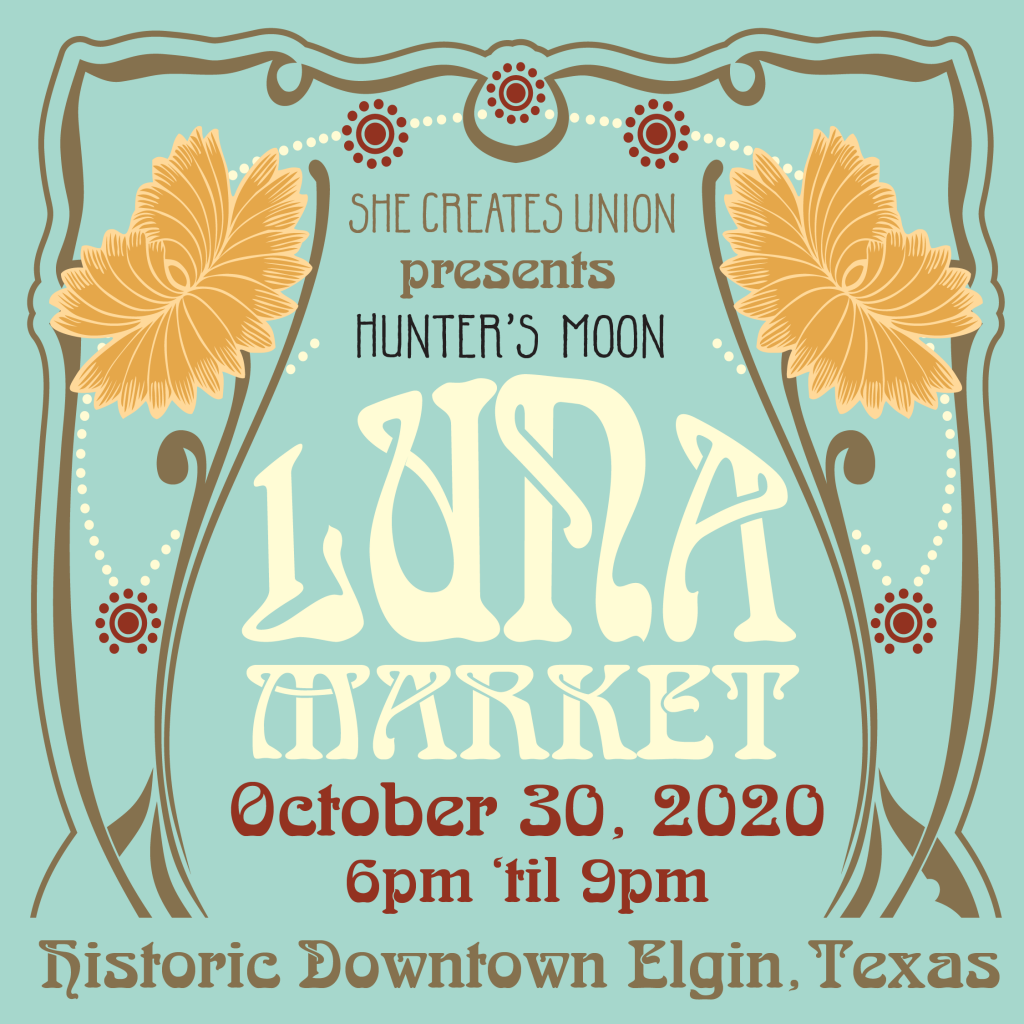 Meet local women artists and makers. Shop small, buy local and support your community!

Erin - Earthen Metals
Custom hand forged metal work, bronze and steel jewelry, antique restoration, blacksmith classes, fences, gates, railings, ornamental metal work for home, garden, office, traditional renaissance accouterments.

Susan - Fiber Obsessions
Susan dyes her inspired color ways on a wide selection of premium yarns and fiber bases that are fresh and up to date. The color ways are inspired, unique, exuberant and she loves to dye using a wide range of techniques. When it comes to dyeing, she follows her heart, not the trends, and you will always find something that touches your heart, too.

Martha - Lucky Xena Designs
I'm Martha Cox, weaver, sewist, spinner. I've been a fiber junky since my mom taught me to sew as a kid. My happiest times are when I'm making things. I also garden, practice aikido, and rescue cats.

Stacey - Bean & Noodle
I spend nights and weekends designing and printing letterpress cards on a small letterpress named Bee. I also make handsome, cheeky, & useful hand-stamped silver serving pieces with mismatched vintage sliver plated flatware which I call Potluck Tableware.

Emma - Ferret & Fern
Nature inspired illustrations and handmade accessories – at Ferret & Fern you'll find design and illustration inspired by the colors, textures and characters I see in nature.

Jordan - jd.stitch
Modern embroidery by hand, vinyl stickers, and downloadable art prints – I'm a self thought stitcher, doing what I love! Hope you enjoy my work just as much as I did creating every design from the sketchbook to the hoop.

Patience - Blythe Studio
Artist, herb farmer, wrangler of 8th grade students, and jewelry designer / fabricator – a one-woman show, I am constantly amazed by the properties of gold, silver and copper. Inspired by the natural world, I create one-of-a-kind earrings, bracelets, rings, and necklaces out of metals and natural semi-precious and precious stones.

Lee - Felting Farmer Lady
Needle felting and spinning are my passion and I have everything you need to get started if you are a beginner or will search for just the perfect unique lock or fiber to make your fiber arts project just the way you imagined. I also create needle felt sculptures, knitted clothing and eco dyed products.

Miranda - The Paper Quillory
Using strips of colorful paper and gluing them on edge, Miranda creates beautiful and playful works of art, each piece lovingly handcrafted and unique.

Emily - Paintbrush Print Co
Modern hand printed souvenirs, inspired by all things cowgirl, retro & roadside!

Firewild Grill
Grab some of the best takeout Elgin has to offer from Firewild… Rustic-to-refined live fire cooking in the great outdoors of Texas! Family owned & operated for over a decade, need we say more!

The Cookie Farmer
And for dessert… Get yourself some Farm to Oven Lovin' from the amazing Ashley Dahlke, aka The Cookie Farmer.

Chemn Cafe
Delicious seasonal hot drinks from the inspiring Monica of Chemn Cafe, Elgin's very own educational design-inspired coffee shop.

The Owl
Taste and take home some of the delicious wines available at Elgin's best Wine Bar and Home Goods Store, The Owl. Wine expert Shayna Jacobs will be pairing them to both Firewild's and Ashley's delicious offerings… the perfect Friday evening date night!
Alicia Adkins will serenade us with a voice as sweet as honey and a bit of twang.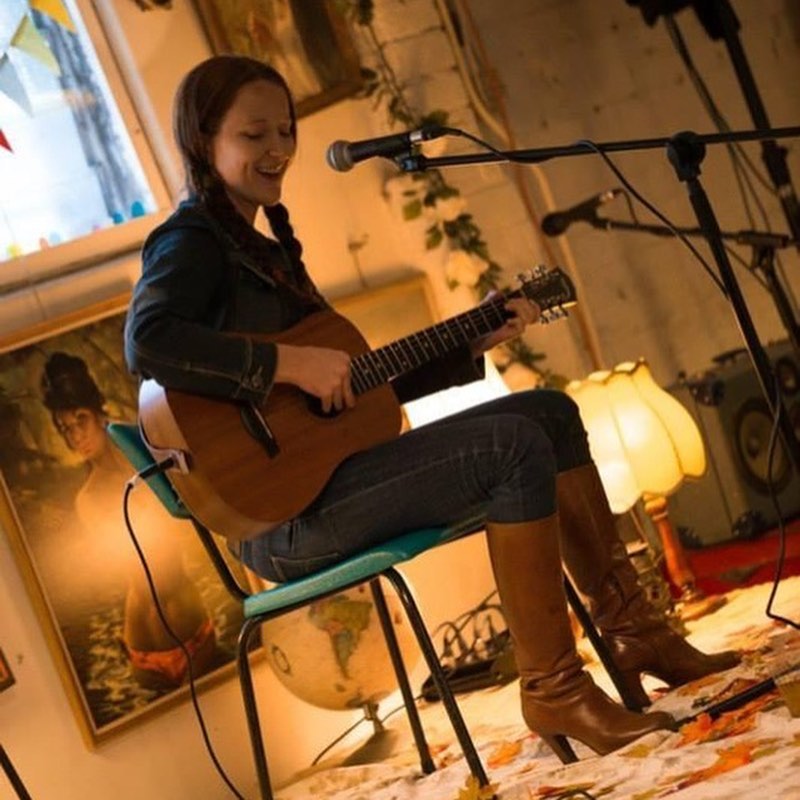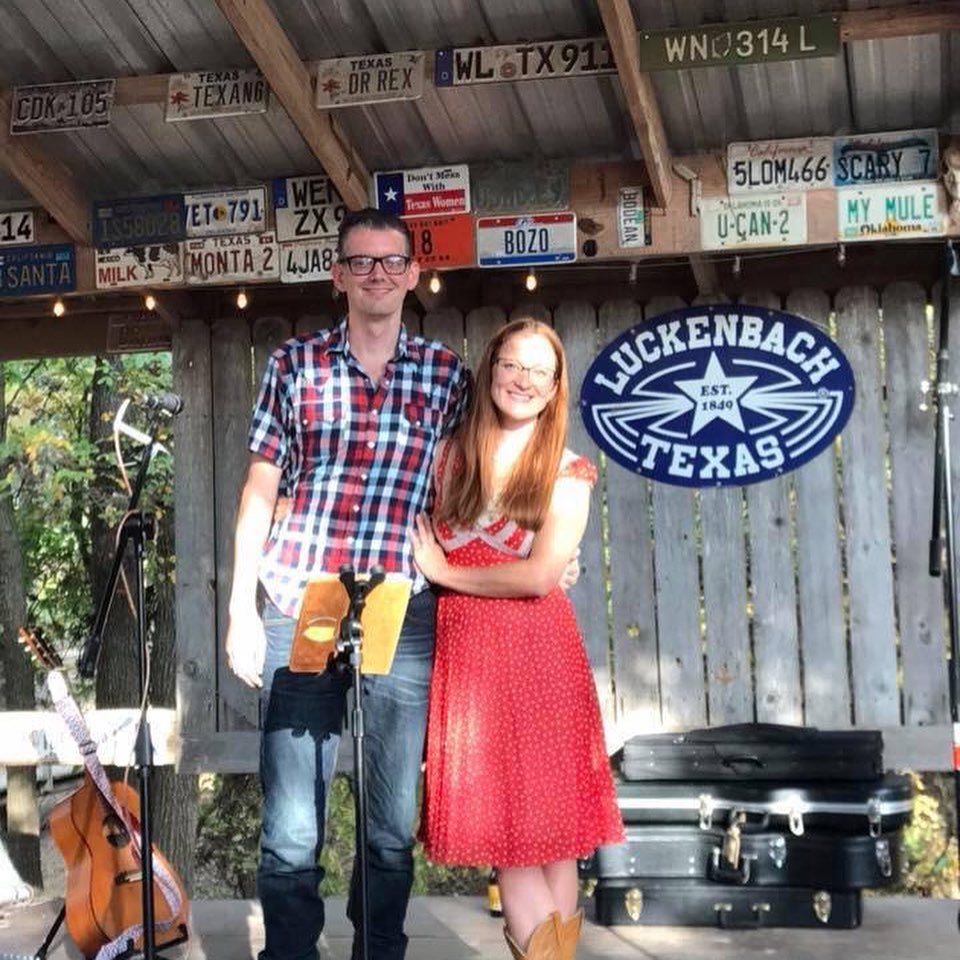 Mr Jones is back! Come and take a selfie on our paper moon.
This Luna Market will be in the alley next to G&M Dry Goods…
Due to the ongoing pandemic, the Luna market will be taking the following precautions:
Your hosts Emma and Stacey will welcome you to the market and may request that you wait before entering to prevent over crowding
Vendors will be socially distanced and well spaced out
Hand sanitizer will be available at all booths
All vendors will wear face coverings, it is strongly recommend that customers also wear face coverings
Many vendors will be offering contactless payment options
Here's to a safe, enjoyable market!